Here it is, the end of July already, which means birthday month is officially coming to an end. I absolutely love birthday month and this year was even better with Emily and I successfully pulling off a joint birthday backpacking celebration.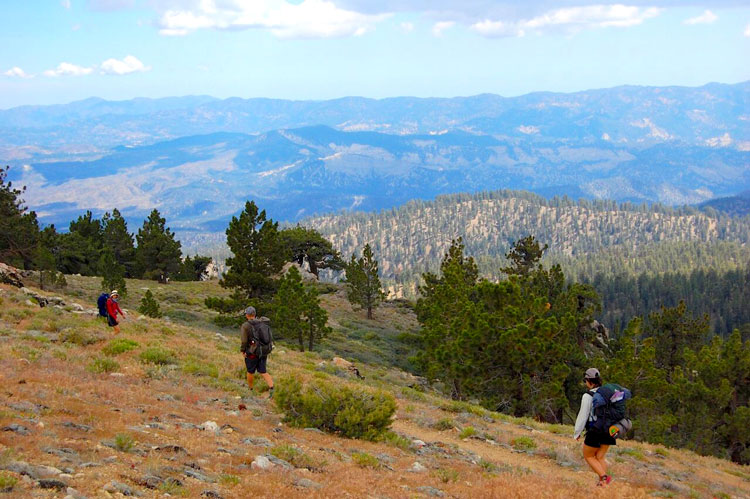 This time we learned from our mistakes  and planned a casual overnight backpacking trip on Mount Pinos near our Dirty Gourmet outpost in Pine Mountain Club.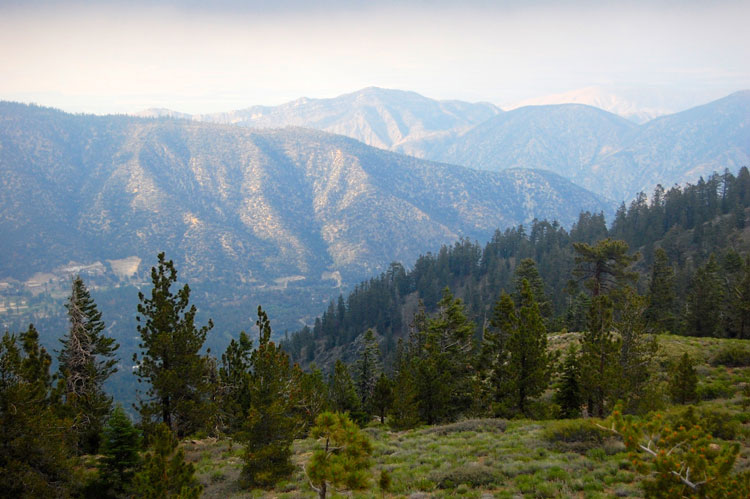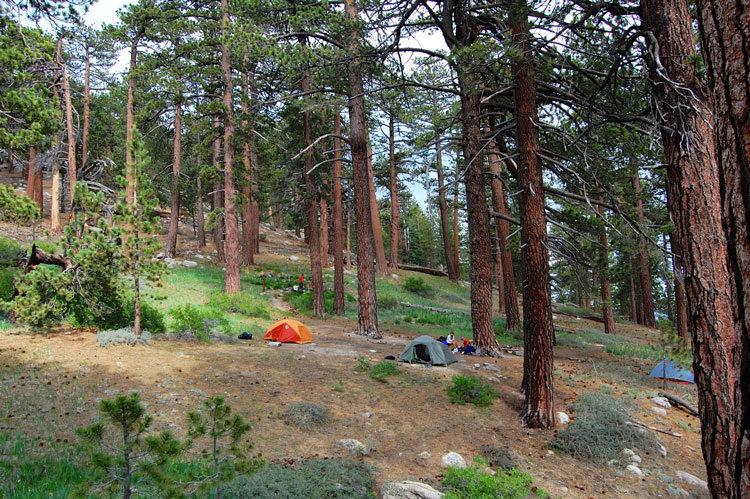 I took the lead for lunch on the trail with a very loose idea of a "packet meal" – an all-in-one savory hand-held wrapped item filled with deliciousness. With no real plan or recipe in hand, the experiment yielded a pie crust wrapped pocket filled with a mixture of sweet potatoes, leeks, jalapenos, sausage and goat cheese.
Being the baker that I am not, I struggled with the pie dough rolling and folding. The Sweet Potato and Sausage Savory Pie Bombs started out blobby but eventually found their shape, which is a little reminiscent of Asian dumplings or baos.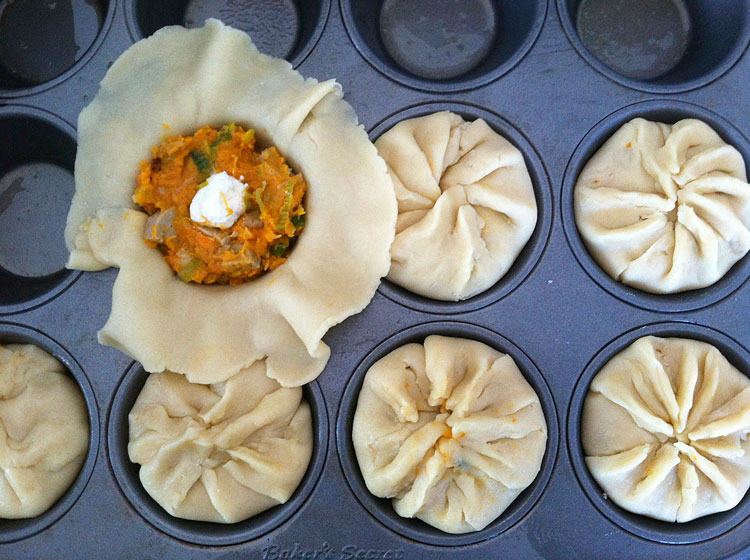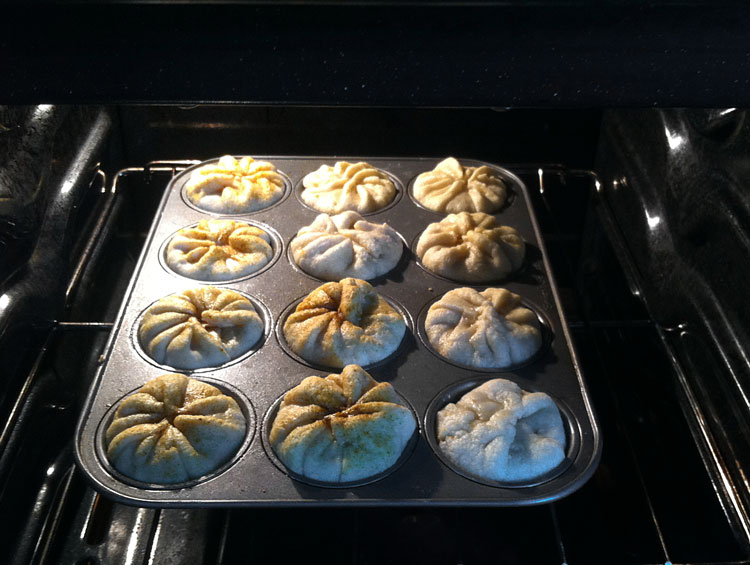 The great thing about this kind of snack is that you can use pretty much anything you like for the filling; just make sure the consistency is not too liquid. For the shell, I used store-bought frozen piecrust that you can roll out flat (no pie tin). You can also use puff pastry for the shell as Emily did with her Cheesy Sausage Grits Cakes.
Even though birthday month will be over, the fun will continue! The next big challenge for me is the 8000 meter challenge – Mount Baldy, San Gorgonio and San Jacinto all in one day. Most likely, I will have one of these pie bombs stashed in my pocket.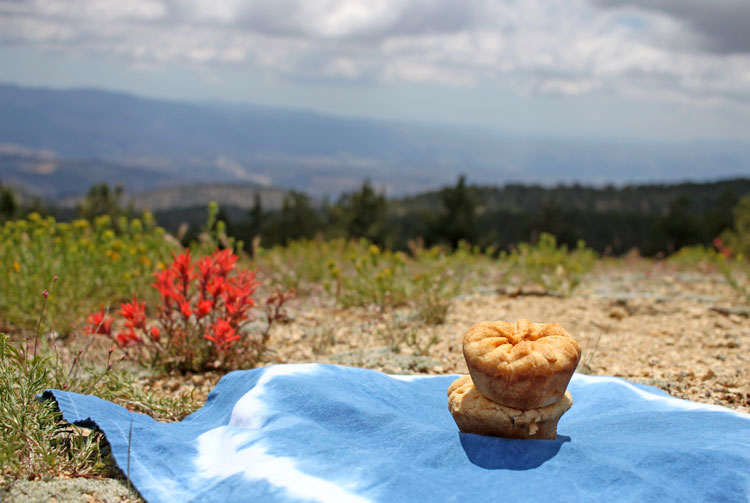 Sweet Potato and Sausage Savory Pie Bomb
Prep Time / Cook Time
/
Activity Guide
Backpacking, Day Trip, Picnic
Ingredients
3 medium sweet potatoes, peeled, boiled and drained
1 leek, trimmed and finely chopped
2 jalapeños, finely chopped
3 sausages, chopped
12 teaspoons of goat cheese, at room temperature
1/2 tablespoon black pepper
1/2 tablespoon of salt, or to taste
Dash of thyme
Dash of cumin
Spray oil
2 frozen pie crusts (no pie tin)
Flour
Tools
Cutting board
Foil
Knife
Large pot
Measuring spoons
Rolling pin
Skillet
Strainer
Vegetable peeler
Muffin tin
Wood spoon
Potato masher
Method
Filling:
1. While potatoes are boiling, heat up oil in a skillet and add leeks and jalapeños at medium-high heat. Stir occasionally until leeks and jalapeños are soft.
2. Add sausage to skillet and brown. I used sausages that were already cooked so this was just to get a sear on them and blend in flavors.
3. Once potatoes are ready, drain and put back in the pot. Add salt, pepper, thyme and cumin and mash.
4. Add leek and sausage mixture and mix well. Add salt and pepper to taste.
Assembly:
1. Preheat oven to 350˚F and spray your muffin tin generously with spray oil.
2. Make sure your pie crust is almost at room temperature – slightly chilled will make it easier to work with. Lightly flour a clean surface and roll out the dough.
3. Using a knife, roughly cut out a 6″- 7″ circle. Place it into one of the muffin tin openings making sure not to poke holes in the dough as you lightly press it down into the shape. You should have enough extra dough flapping over the edge of the opening so that it reaches the middle point of the pocket pie when folded.
4. Fill the dough with 3 tablespoons of filling. It should go the top edge of the muffin tin. Make a hole in the middle of the filling and add 1 teaspoon of goat cheese.
5. Now for the folding. Feel free to experiment with your own technique but here's where I landed after a few trail and errors. Gently fold the dough over so one point meets the center of the filling. Don't pull the dough as it probably is getting soft and will likely tear if you do. Create a pleat by pinching the dough to the  left of the area that is already touching the dough. Take the pleat and fold it down. Repeat this step going clockwise. You should end up with overlapping pleats that eventually close up the pocket pie. Here's a bao folding tutorial that has step by step photos.
6. Repeat steps 1-5 per pocket pie.
7. Put muffin tin in the oven for 30-40 minutes or until the dough is golden brown and flaky.
8. Use a butter knife to gently dislodge the pocket pies from the muffin tin. They should rotate and come out easily if the dough is ready and no filling spilled out.
9. Let cool and wrap in foil.