Life is all about your expectations. I really believe that you get what you think you'll get, no matter what. Have you ever heard of the crazy theory of biocentrism? Talk to my dad if you really want to get into it. It basically says that the universe is created by life and conscious observation, instead of the opposite. This has been famously shown with the use of light particles in the double-slit experiment, and a lot more work dealing with macromolecules is now being done. Sounds kinda crazy, huh? Quantum physics always does. But, its pretty cool to think that even the laws of physics are being updated to show that truth and reality are relative to what you observe or believe.
Many of you know that the three of us girls have been toying with the idea of creating a real live business out of Dirty Gourmet. We've experimented with several options, from e-books to granola. Those things aren't completely off the table (relax, granola freaks), but we've recently committed to a more complete path that encompasses the mission of Dirty Gourmet more fully. We're here to fill a niche – one that needs filling for more important reasons than just to grow big and make money. We're aiming to help you make lifestyle changes that will benefit you as individuals, as well as the whole world around you. We're hoping that these changes will spread to new audiences, and the idea of really savoring life will become normal. The way that stress is normal today.
And we expect to be successful, so I know that we will be.
I realize we've been on a vegan kick lately, and here's another recipe to add to that. Hopefully by now, you've decided to try out one of these crazy recipes no matter how much you love meat. If you haven't, though, try this one. This hot wing recipe completely transforms the tempeh (something we admit can be hard to get into) into an addicting dish that will create a serious feeding frenzy. The recipe was adapted from two other sources: Christiane Britton's Tastebook and Destiny's Kitchen.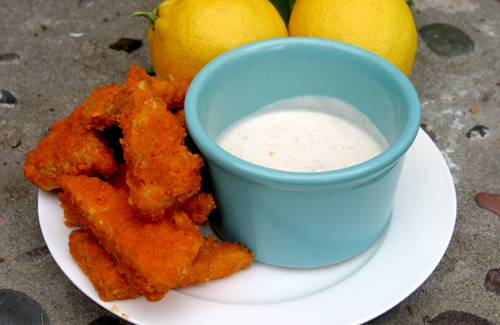 Tempeh Hot Wings
Prep Time / Cook Time
/
Activity Guide
Car Camping
Ingredients
8 ounce package tempeh
1 cup breadcrumbs (panko preferred)
3 tablespoons olive oil
1/2 cup Frank's Red Hot Sauce
2 tablespoons butter or margarine
1/3 cup Vegenaise
1 tablespoon water
1/2 teaspoon lemon juice
1/4 teaspoon garlic powder
1/8 teaspoon dried dill
1/8 teaspoon onion powder
1/8 teaspoon paprika
Salt and pepper, to taste
Tools
Foil
Knife
Medium bowl
Small pot
Spoon
Tongs
Zip-top bag
Method
Quarter tempeh. Cut quarters diagonally creating triangles. Cut the triangles in half – thickness wise – this creates more servings and the thinner slices are nicer bite size portions.(Can be done at home)
Boil for 10-15 minutes. Drain water and let cool. Store in container if done at home.
Put panko bread crumbs and spices in a ziplock bag.
Set up foil packets and put a little oil at the bottom. Make sure the foil is large enough to fold over completely and close firmly. You will have to flip the packets on the grill. Set aside.
Pour oil over tempeh to coat all sides. Dip each triangle into the panko spice mix and cover all sides. Place in foil packet. Repeat for each tempeh triangle. Note: each piece should lay flat inside the packet – do not stack them.
Place on grill over campfire. You want a hot fire but no direct flames. Leave on grill for 5-10 mins and then check how "browned" or crispy the wings are getting. Flip over to other side once the panko crumbs are starting to brown or char slightly.
Make ranch sauce. Mix together vegenaise, wataer, lemon juice, garlic powder, dried dill, onion powder, and paprika. Season with salt and pepper. Taste and adjust as necessary.
Make hot sauce. Put hot sauce and butter into pot at medium/low heat and stir to mix. Once mixture boils, turn off heat and cover to keep warm.
Remove foil packet from fire and open. Put wings into buffalo sauce and gently toss. Serve immediately.