One of the first recipes we posted on our site was this Sweet Potato Corn Chowder. It never got much attention but it's one of my favorite recipes and I've wanted to update the recipe and make a vegan version for a while now.
Aside from veganizing it, there are a couple of other things I wanted to change about the recipe. First, in the original recipe, we called for canned or frozen corn. That still works fine, but with the abundance of corn in summer, I opted to use fresh. It's worth the effort to grill it and then cut it off the cob for some smoky flavor. Second, this is a great recipe to make entirely on the campfire. Grill the veggies on the fire and then cook the soup in a dutch oven instead of on your camp stove (of course you still can just use your camp stove though!).
Instead of sour cream, I used cashew cream that I made ahead of time at home. This thickens the soup beautifully and makes it rich and satisfying. You can substitute 1 cup of vegan sour cream if you don't want to make the cashew cream.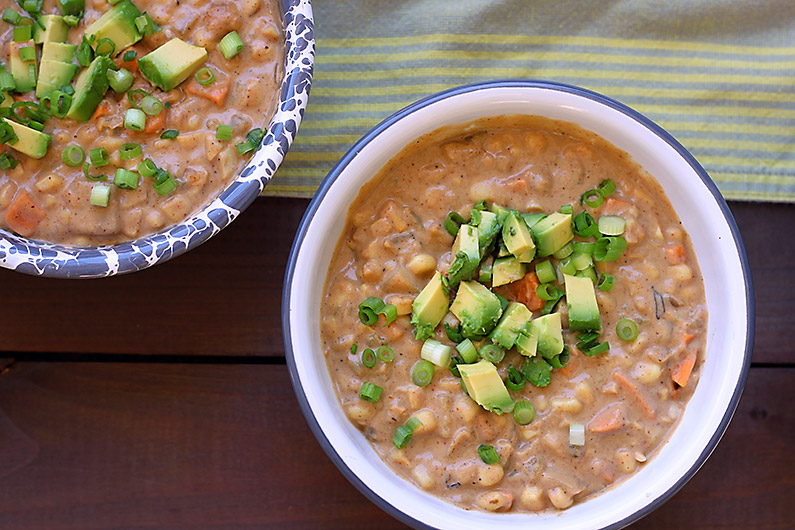 Vegan Sweet Potato Corn Chowder
Prep Time / Cook Time
/
Activity Guide
Car Camping
Ingredients
1 tablespoon olive oil
1 medium onion, finely chopped
2 cloves of garlic, minced
1 large russet potato, peeled and diced into 1/2 inch cubes
1 large sweet potato, peeled and diced into 1/2 inch cubes
4 ears of fresh corn or 1 pound frozen corn
1 jalapeno chile
1 anaheim chile
4 cups vegetable stock, or equivalent bouillon
1 tablespoon ground cumin
1 tablespoon chili powder
1/2 cup cashews
salt and pepper, to taste
toppings, such as tortilla chips, avocado and green onions
Tools
Cutting board
Foil
Knife
Long tongs
Measuring cups
Measuring spoons
Mixing spoon
Large pot or dutch oven
Stove or campfire
Method
At home:
Soak the cashews in hot water for about 15 minutes. Alternately, you can soak them overnight in cool water.
Drain the cashews and place them in a blender with 1 cup water. Blend on high speed until creamy and very smooth. Transfer to a jar and store in a cooler until you're ready to make the soup at camp.
At camp:
Get your campfire going and prep it so there is eventually a nice bed of hot coals to place your dutch oven on.
First, roast the chiles. Char the skin on all sides of the jalapeno and anaheim chiles by holding them with long tongs over the flame of a campfire or stove. Scrape off skin with a spoon. If too tough, cover the hot chile with plastic wrap for 5 minutes to steam and try again. Finely chop the chiles and set aside.
Second, roast the corn. Remove the husks and silk from the corn and wrap in foil. Place in the campfire directly on the coals. Cook, turning every few minutes to keep it from burning. A little color is good, and adds to the flavor of the soup in the end, but you don't want it completely burnt. Remove from the fire and set aside to cool. When cool enough to handle, cut the corn off the cobs and set aside.
To make the chowder, place the dutch oven over the hot coals of a campfire. Add olive oil and sauté onion and garlic until translucent. Add the potatoes and sweet potatoes and cook for a few minutes, until they get slightly brown. Add the chiles, corn, and spices, and cook for another minute. Add the vegetable broth and cover (no need to put coals on top of the dutch oven). Simmer until potatoes are tender, about 10 minutes. Stir in all the cashew cream and continue cooking until the soup is thickened. Season to taste with salt and pepper.
Serve hot with tortilla chips, avocado, and green onions.