When I first thought of making Sloppy Joe Baked Potatoes I felt like a genius. Then I realized it was just a baked potato with a version of chili on top. Guess I'm not very creative after all. But still, these are really great comfort food, and if your kids are anything like mine, they'll devour them. Add some ginger lemon smores and a roaring campfire and I bet everyone will be happy.
I suggest baking a few extra potatoes to save for the next morning to make hash browns or breakfast potatoes.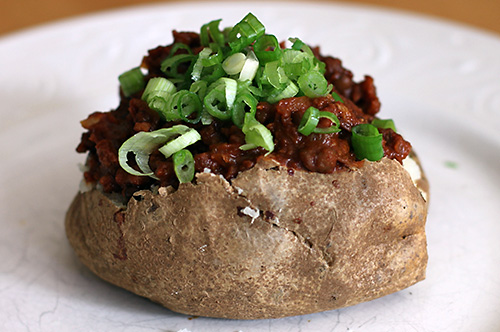 Vegetarian Sloppy Joe Baked Potatoes
Prep Time / Cook Time
/
Activity Guide
Car Camping
Ingredients
4-6 russet potatoes
2 tablespoons vegetable oil
1 large onion, minced
1 1/2 cups cooked lentils
12 ounces vegetarian ground beef
1/4 cup chili powder
2 teaspoons oregano
15 ounce can tomato sauce
1/2 cup water
1 tablespoon mustard
1/2 teaspoon salt
2 tablespoons maple syrup
green onions, sour cream, and cheese for garnish (optional)
Tools
Cutting board
Foil
Knife
Large pot
Long tongs
Mixing spoon
Method
For the potatoes:
Well before you start cooking, start a campfire. Once you have very hot coals, wrap each potato in foil and place on hot coals. Cook until potatoes are tender, moving them around frequently. You can also just bake your potatoes at home and heat them on your campfire.
For the sloppy joe mix:
Heat the oil over medium heat and add the minced onion. Cook until onions are softened. Add the remaining ingredients and stir until combined. Cook over medium-low heat for 10-15 minutes.
Serve the sloppy joe mix on top of the baked potatoes. Garnish with green onions, cheese, and sour cream if desired.