When I'm not busy having fun with Dirty Gourmet, I'm having fun teaching classes at Art Center College of Design. One of the many perks of teaching is keeping up-to-date with latest and greatest trends through my students and colleagues.
Through this association, I recently discovered some new food and lifestyle magazines such as: Lucky Peach, Wilder, Kinfolk and Gather. My new favorite is Lucky Peach, which has themed issues and comes out on a quarterly basis. What makes it special are the substantive articles about food culture, history, trends and even fiction stories, all done in a fun casual style. On top of great content, one of the editors is Momofuku empire founder chef David Chang (my new celebrity crush). I highly suggest you check out the Anthony Bourdain narrated PBS Series: "Mind of a Chef" featuring David Chang.
Sooo… How does this all relate to Dirty Gourmet and getting outdoors? Well part of our fun is how to translate these sometimes out-of-reach food ideas into recipes that you and I can actually make AND take on our adventures.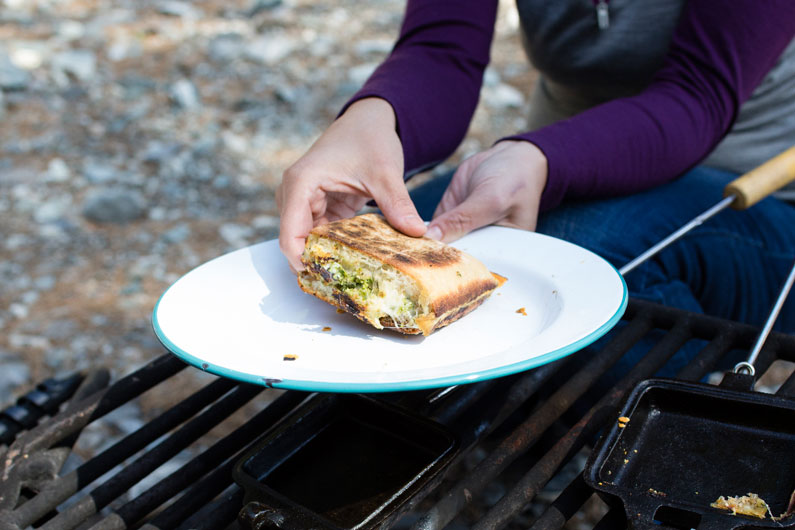 This Walnut Pea Pesto Panini is a great example of that. I used part of a salad recipe in the last issue of Gather, added some sliced Swiss cheese and bookended it all with some ciabatta bread. A little twirl in the pie iron and you've got a Walnut Pea Pesto Panini.
This pesto is super simple to make, the main ingredient being frozen peas (straight out of the bag!). The peas bring a freshness and delicate sweetness to the pesto, which makes this ideal for a warm summer day lunch or dinner.
Pea Walnut Pesto Panini
Prep Time / Cook Time
/
Activity Guide
Car Camping
Ingredients
1 cup frozen peas
2 tablespoons walnuts
1/2 cup packed basil
1 small garlic clove, peeled
2 tablespoons Parmesan, finely grated
3 tablespoons olive oil
1/4 teaspoon salt
1 pinch of black pepper
4 ciabatta rolls
4 slices swiss cheese
1 can spray oil
Tools
Campfire
Food processor
Knife
Spoon
Pie Iron
Zip-top bag or reusable container
Method
At Home:
Cook peas in boiling salted water 2 minutes then drain and chill in bowl of ice cold water. Drain.
Turn food processor on and drop walnuts and garlic clove into feed tube. Process until finely chopped.
Add peas, basil, cheese, olive oil, salt and pepper. Process until light and spreadable. Add a little water if needed to achieve texture.
Carefully transfer pesto to a zip-top bag or reusable container.
At Camp:
First things first – get your campfire going and double check that your panini bread will fit inside your pie iron. If not, trim bread as necessary.
Cut bread in half and spread a generous amount of pesto on both halves. Add a slice of cheese and set aside. Repeat for each panini.
Open up your pie iron and spray the insides with the spray oil. This will help prevent your panini from sticking and make the bread nice and crispy.
When your fire is ready, put the pea walnut pesto panini sandwich inside the pie iron and seal. Hold the pie iron above hot coals and flip often. If you don't have coals, you can put the pie iron in direct flames but you'll need to flip it very often and also be extra careful not to burn your food or your hands.
It's likely the panini will start to ooze and bubble out the sides of the pie iron. This is your cue to open it up and see if your panini ready. If you have a good fire going, it should take more than 5 minutes. Be really careful when handling the pie iron – everything will be hot, including the metal rods and little hook holding the pie iron together.
Your panini is ready when the bread is golden brown and the cheese slice is now a hot gooey mess. Enjoy!