Happy New Year! 2014 is starting out cold, but hopefully that's not stopping you from getting outdoors! One of my unmet goals for last year was to go snow camping, so I decided to tackle that early on this year and head out on a little overnight snowshoeing trip in the Vallée du Bras Nord just outside Québec city.
unbeknownst to my friend and I, we headed out in what turned out to be the coldest day of the winter yet at -35.4F/-38C, not including the wind chill! We took off at a steady pace on a packed trail, and soon found ourselves meandering through a forest of maple trees. Once sheltered from the wind, all we could hear was the loud crunching of our snowshoes on the trail. We had to slow down to maneuver around a complicated system of tubes and taps set up to collect the trees' coveted sweet syrup, and were rewarded by a woodpecker sighting up in the trees.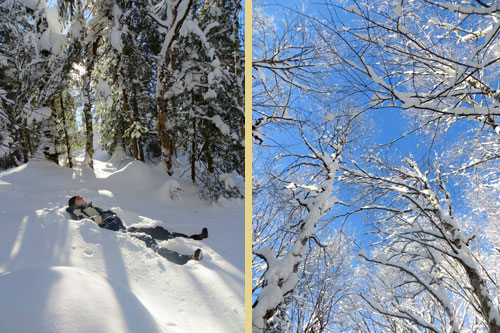 We made it to the cabin right at sunset, and we were happy to see a few glowing embers in the wood burning stove. The cabin is used to shelter skiers and snowshoers during the day, and at night can sleep up to 12 people in a dormitory-style setting.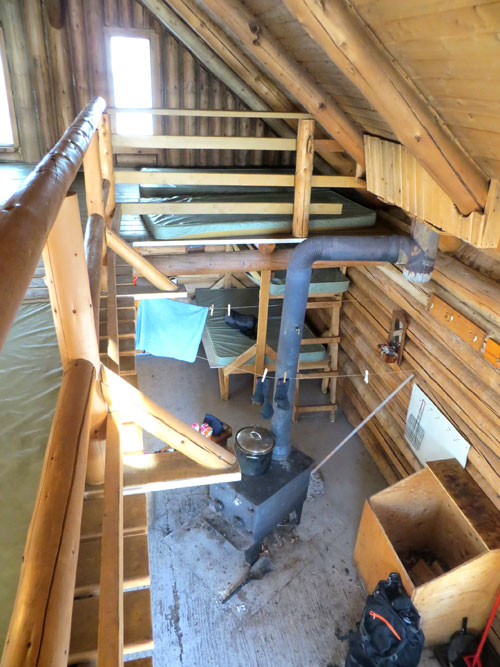 The main focus of the evening was to keep the fire going and to guess what the temperature was outside and inside the cabin. With an alarm set up for every 3 hours to add wood to the stove, we managed to sleep at a comfortable 3C/37F on the second floor of the cabin.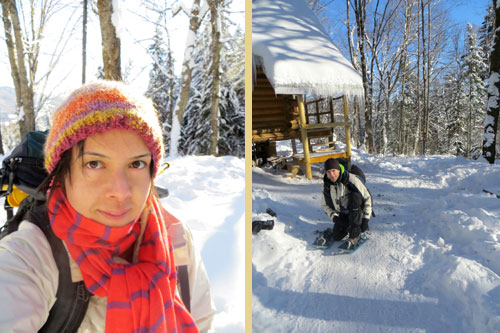 Food wise, I have to admit I failed! For dinner we resorted to good ol' instant noodles, and the fanciest thing we had was two slices of King Cake/Galette des Rois that my mom packed for us. If I had planned a little more carefully, snacks I would recommend for the trail in cold weather would be small fatty items that you can put in your pockets like cheese or banana bread. I would stay away from power bars as they become impossible to eat once frozen.
I'm not sure this trip counts towards my snow camping goal for 2014, but in case it doesn't, I know I can handle any cold and snow weather camping temperatures California might have in reserve for me! Happy winter adventures!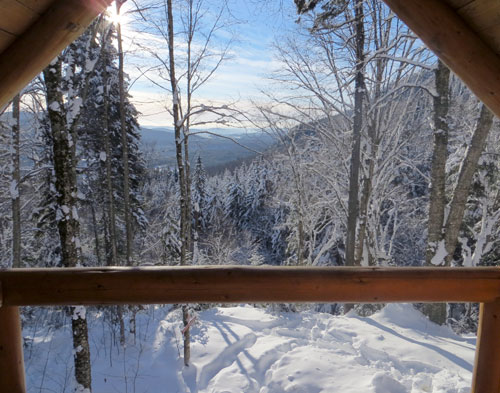 Vallee du Bras Nord
Location
St Raymond, Québec Canada
Website
Activity Guide
Hiking, Snowshoeing, Cross-Country Skiing
General Info
La Vallée Du Bras Nord is located about 1 hours drive North West of Quebec city. There is a daily use fee of $7 to use the park, or you can get an annual pass for $80. All lodging rentals are by advance reservation only. The park is maintained by a non-profit organization focusing on sustainable tourism in conjunction with endangered youth programs.
Amenities
Cabin Rentals (dorm-style)
Yurt Rentals
Cottage Rentals
Fire Wood (included with lodging)
Snowshoe Rental
48 Miles of Marked Hiking Trails
Insider Information
Not all visitor centers are open during winter. Make sure to call ahead of time and check which one(s) is open in case you need rent equipment or speak to someone. Call for a reservation far enough in advance. They don't always answer the phone so a last minute call will not work.
There is very little cell service in the area. Make sure you have a map and all the information you need with you ahead of time.