One of our favorite portions of our trip to Canada was backpacking to Yoho Lake in Yoho National Park. We were surprised to find out we'd shown up on Canada's busiest holiday weekend to what appeared to be the only place that everyone in Canada vacations during that time. Luckily, our "no plan plan" paid off, and the nice Canadian park rangers were able to set us up for an incredible couple days in the backcountry.
We highly recommend using park rangers to your advantage when planning a backpacking trip. They always know the best places to go. The ranger sent us over to Yoho National Park onto the Iceline Trail, stopping at Yoho Lake for the night.
It was only a few kilometers (less than 5 miles American), but still deep enough into the woods to be surprised to see Adirondack chairs, picnic tables, and tent platforms when we arrived in camp. They don't require bear canisters there because they've installed huge poles with cables for hanging bags. No need to worry that you may be doing it wrong. They do, however, require that you carry bear spray with you in many areas, and travel in groups of at least 4 (or sometimes 6!) to keep yourself safe from large mammal encounters. Yoho was one of the few places we went that wasn't as strict with these rules, helping us feel more at ease.
The campground was right on the beautiful little glacial blue Yoho Lake. We threw our beers into the water (you can bring beer when it's less than 5 miles) and the boys jumped in behind them. We ate jerky and licorice, and played cards until dinner. It started raining just as we started cooking, but we found a perfect little hideaway among a trio of douglas firs.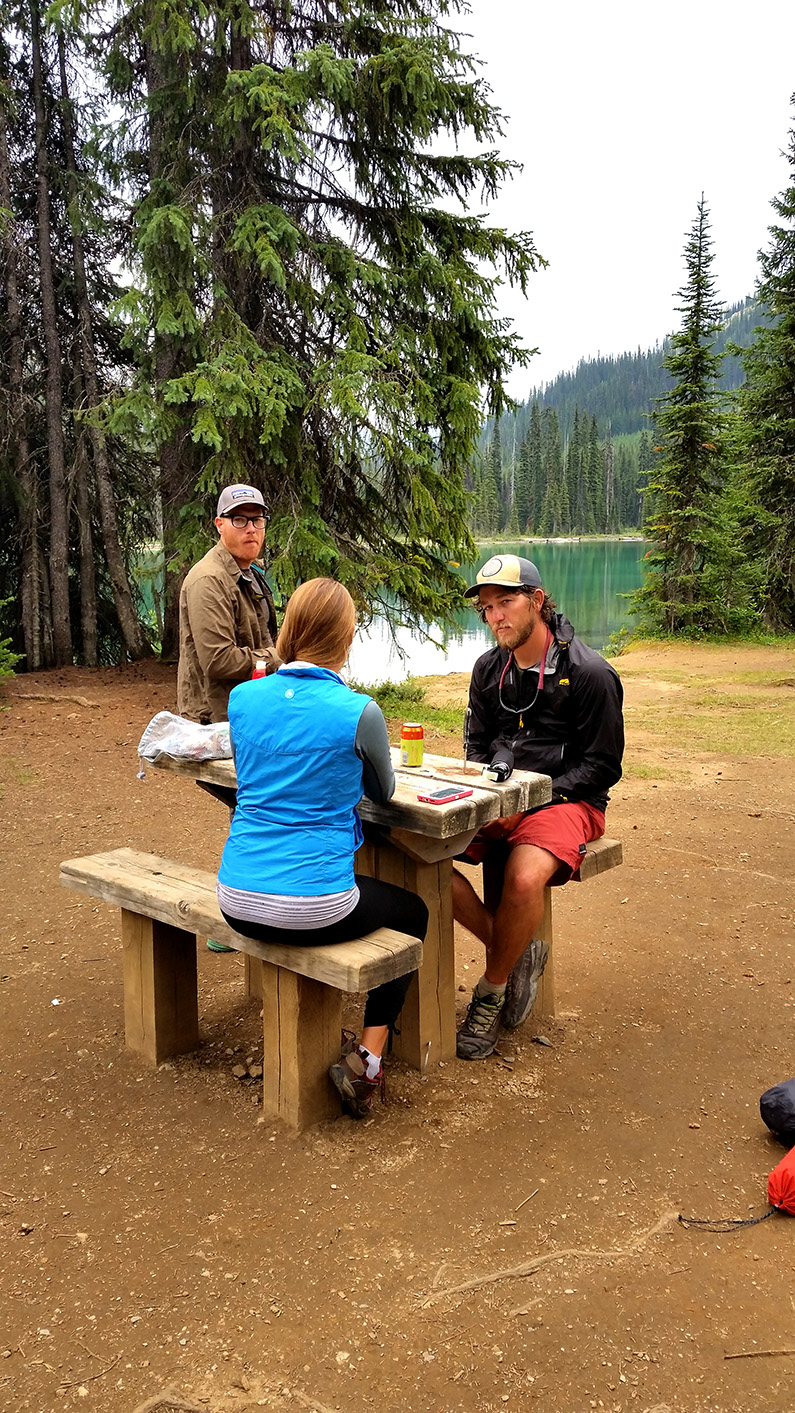 It really felt like summer by 9pm when there was plenty of daylight left. Even though it was raining, we decided to take a short little hike to look for wildlife. We found none, but it was good to play before bed.
The next day, we hiked up to Iceline Summit on the Iceline Trail. From here, you can see the icefields and glaciers that are completely hidden from the trailhead. It always feels so satisfying to see stunning views that you know you could never see without walking yourself there to see them. The trail continues to several other lakes and falls, but we headed back down to Takakkaw where we started to continue our adventure back in Banff the next day.
You don't have to go far into the backcountry to experience the incredible sites that Banff National Park has to offer. Yoho Lake is a perfect destination for balancing easy access with getting a little off the beaten path.
Yoho Lake
Location
Yoho National Park, Banff, Canada
Website
Activity Guide
Day Hiking, Backpacking, Swimming, Ski Touring
General Info
Yoho Lake trail starts at Takakkaw Falls, which is an incredible powerful waterfall worth walking to the base of.
Take the trail past Whiskey Jack hostel towards Yoho Lake. It starts off a bit steep, but the trail is only 4.3 km (2.6 miles). Camp here and head onto the Iceline Trail towards Laughing Falls for night #2 or loop back down to the falls after one night, or just lunch.
Amenities
Tent platforms
Bear pole
Scenic viewpoint
Picnic tables
Pit toilet
Insider Information
The wildflowers were incredible at the beginning of August. Fields and fields of different varieties lined the entire trail
Bear spray is not allowed on flights, so you'll have to buy some when you get there. We found it to be less expensive than buying it in the US anyway, running about $35 Canadian Dollars (right now, about $27 USD). We ended up donating it at the end of our trip to an outfitter.
Don't bother with bear canisters. They are not required, and difficult to hang from the bear poles.
Don't go the first weekend in August unless you want to hang out with everyone in Canada.