Wow, a LOT of people are headed out to Zion right now! There's only a few more days where you're allowed to drive your car into the valley instead of taking a shuttle (March 31 is the last day of the season). This weather is bringing the crowds in early (sorry, east coast!). You can follow them around the valley if you want, but there are other options. Our favorite is the West Rim Trail.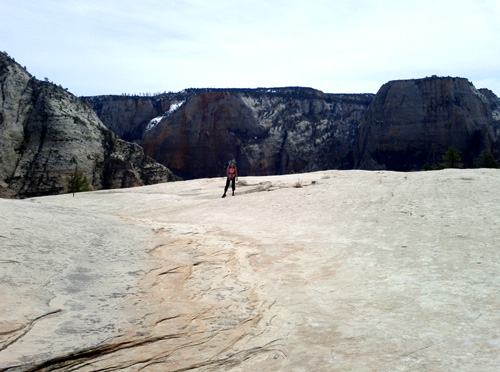 The West Rim Trail cuts across the rim between two canyons. Its very scenic, and very lacking in crowds. There are two ways to access the West Rim Trail. I took Wes on his first backpacking trip from the valley floor straight up to the rim in a short, steep, five(ish) miles (check out the post about the trip). The more common route is to drive around to the north and enter near Lava Point. Its more mileage (about twice as much), but probably a lot less work.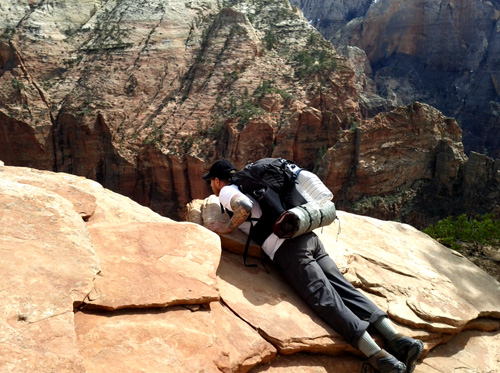 You could choose to do an out-and-back from Lava Point or from the valley, or you could park a car in two different places and do a one-way traverse. Or, you could do the full traverse from Kolob Canyon to Zion Canyon, which is a beautiful 40 mile trip, and you should definitely park two different cars (or plan more than a week).
Zion National Park is beautiful no matter which section you hit. Get out there and enjoy it!
Zion-West Rim Trail
Website
Activity Guide
Backpacking, Hiking
General Info
Zion National Park is located in southern Utah. The West Rim Trail is easily accessible from The Grotto Picnic Area in the valley, or from Lava Point. It passes iconic spots like Angel's Landing, and offers an escape from the crowds that are usually expected as the weather warms up.
Amenities
Gorgeous scenery
Quiet
Solitude
Established campsites
Insider Information
When you get to the rim, there are eight campsites to choose from. You have to get a backcountry permit and call out which site you'll be staying in beforehand. My recommendation is Campsite #5. It is right on the rim- totally exposed. You get to watch sunset over one canyon, and sunrise over the other. The stars are incredible. Though it may be snowy and windy.